Product Information Manager : Tags
---
Access
Click

- > Setup - >  Tags (in the Basic Data section) to manage tags.
Contents
Overview
A tag is a non-hierarchical keyword or term assigned to a piece of information which helps describe an item and allows it to be found again by browsing or searching. Tags serve as identifiers and can be used as references in Attributes and Documents tabs of the Product Editor.
See the Basic Actions page for more info on standard actions (search, sort, edit, delete etc.).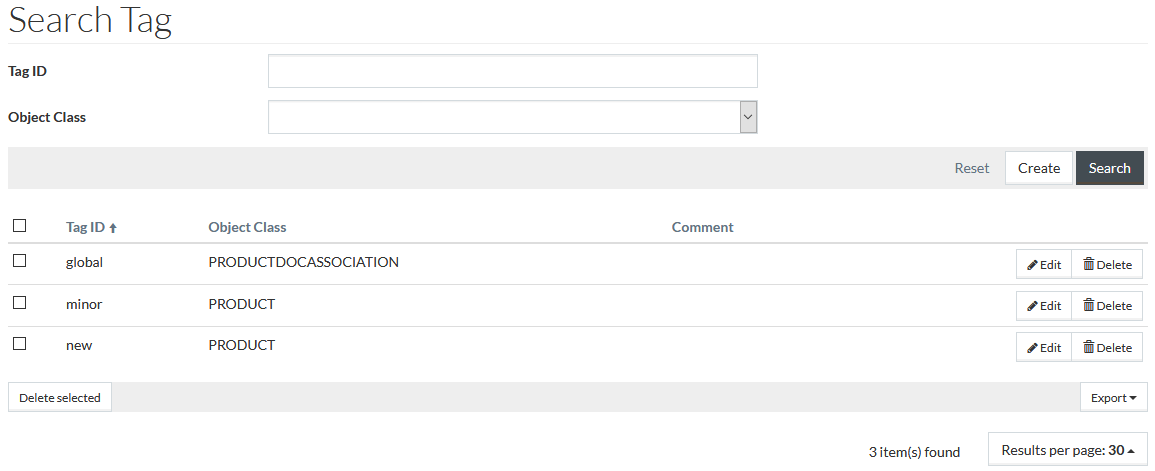 Create Tags
Click 

to create a new tag. The tag editor will be opened.

Enter Tag ID. Select Object Class from the drop-down list. Currently, the following two options are available:
Product - the tag is used in relation to the Product attribute values.
Productdocassociation - the tag is used in relation to the Documents assigned to the Product.
Enter the Comment if required.
| | |
| --- | --- |
| | Tag ID can only contain alphanumeric characters (letters A-Z, numbers 0-9), hyphens ( - ) and underscores ( _ ). |
Click 

to save the tag. Click

 to save the changes and proceed creating a new tag. To cancel, click the 

link.