Product Information Manager : Attribute Sections
---
Access
Click

- > Setup - >  Attribute Sections (in the Classification section) to open the Attribute Sections Editor search page.
Contents
Overview
Use the Attribute Section editor to create attribute sections for further usage.
See the Basic Actions page for more info on standard actions (search, sort, edit, delete etc.).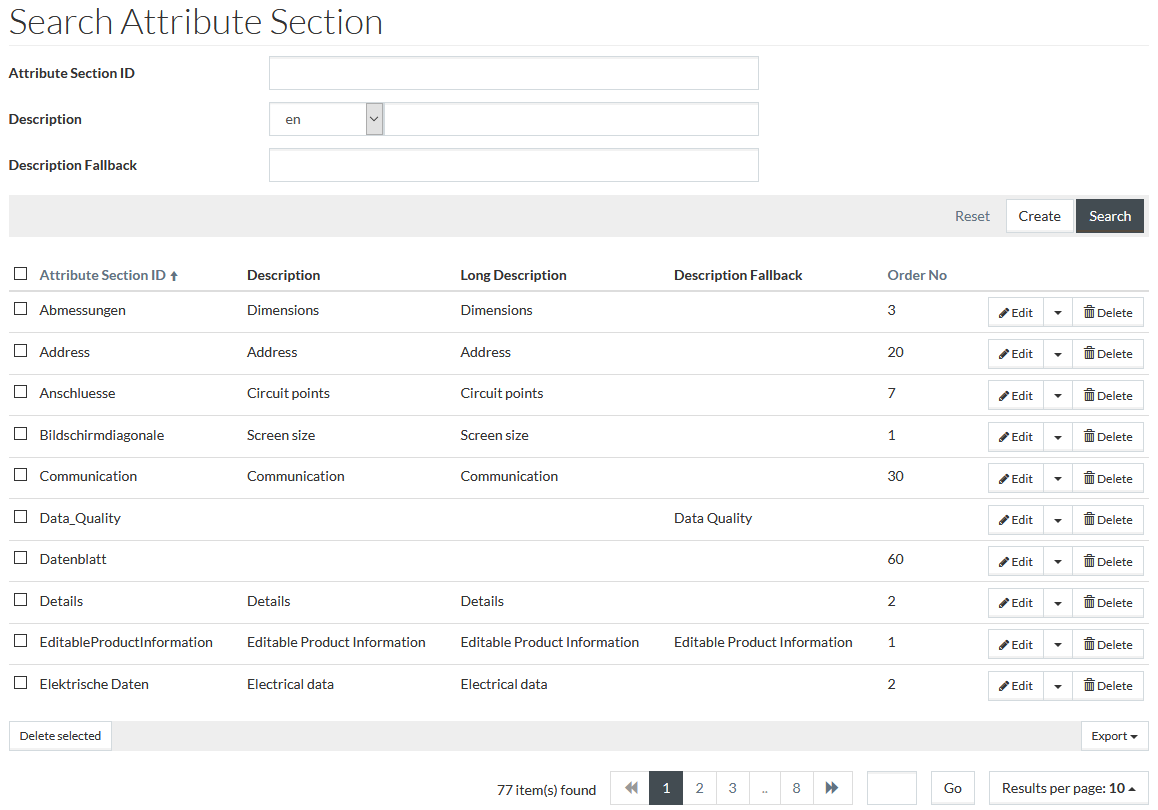 Create Attribute Section
To add a new attribute section, click

to open the editor. 
Enter the Attribute Section ID into the appropriate field, which is mandatory.
Optionally enter attribute section Description and Long Description. It is possible to add descriptions s in multiple languages.
Enter the Description Fallback to be displayed in case no language-specific Description is available. Terms can be used in Description Fallback. See the Terms page in PIM for more details.
If needed, enter Order No.
| | |
| --- | --- |
| | The Order Number affects the order, in which the section with its attributes is displayed on the Product Preview page and in the Classification Cockpit in PIM and in the attributes list in the Classification Group Editor. |

Click 

to save a newly created section. Click

to save a newly created section and proceed with the creation of another section. Click 

to go to the search page without saving.
Duplicate Attribute Section
Click the

option from the 

drop-down menu on the search page or the respective 

button on the attribute section editor page to create a copy of an existing attribute section. Enter a unique Attribute Section ID on the Duplicate Attribute Section page, click 

and then complete editing on the attribute section editor page.